Filter by Subcategory
Business & Skills Training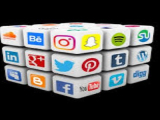 MANAGING SOCIAL MEDIA PLATFORMS CERTIFICATE
with UGot Class
Different social networks have distinct characteristics, different features, and are used to develop a two-way communication and marketing strategy for your organization. Get a skill set for working and managing different social media platforms. Then find out what you can be doing, what you should be doing, and take back a plan to integrate social networks into your communication and marketing. You will get a firm foundation in Twitter, LinkedIn, and Facebook platforms. Come away with both an understanding of these social networks and practical, how-to techniques to integrate social networks into your organization or business. Your instructors are outstanding practitioners who also speak, write, and train others on social networks.
 Three Online Courses (1 month each) by UGotClass
Twitter:  September 3rd thru 27th, Instructor Kathryn Lynch-Morin
Facebook for Business: October 7th thru November 1st, Instructor Nicole Siscaretti
Linkedin for Business: November 4th thru 29th, Instructor Jennifer Selke
LINKEDIN FOR BUSINESS
with Jennifer Selke
LinkedIn is the most popular business social network and the webs site for professionals to network, build business relationships, and provide or receive referrals. Most people rarely get beyond setting up a profile and therefore miss out on all the advanced features that have come to make LinkedIn so popular. Learn how to set-up your personal profile so that it gets noticed by others. Discover how LinkedIn can be used to generate leads, recruit new employees, and find new jobs. This class will cover all the intricacies of LinkedIn to help you create, customize, and optimize your presence on LinkedIn.
UGotClass Online Course