Filter by Category
Arts & Crafts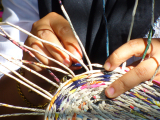 Fundamentals of Basket Weaving
with Diane Wheeler

Sep 27, 2017 at 6 pm
, runs for 8 weeks
This is an eight week course teaching the fundamentals of basket making. Each basket made will build on the skills learned in the previous basket. At least four baskets will be completed by the end of the course! The cost
of the class covers instruction and materials. Students will be asked to bring some tools typically found around the house: A 2 gallon pail, yard stick (rather than measuring tape), basic utility scissors, lead pencil, clothespins or binder clips, and an awl, ice pick or small knitting needle. This will be a fun, hands-on class for new or returning students. Limit: 10 students.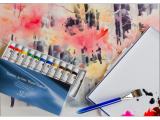 Watercolor Fun with Doris Anne Holman
with Doris Anne Holman

Oct 3, 2017 at 5:30 pm
, runs for 4 weeks
You will paint a new subject each night such as birch trees, flowers, fog, as well as practice washes, quick sketches and learn composition. From beginner to experienced, this class is for you! Bring watercolor pad, watercolor paints, pencils, small crayons, water container, sponges and paper towels.
Doris Anne Holman has been teaching watercolor for years, mostly running workshops around Maine.She previously ran workshops in Bermuda and Santa Fe. She was a former Art teacher at Monmouth Middle School as well as a Reading Specialist. When she is teaching watercolor she uses some experimental techniques to add texture and interest to her paintings. She has written, illustrated, and printed eleven children's books and one How to watercolor book. She enjoys teaching adult ed and looks forward to the Spring season.