Filter by Subcategory
Business & Skills Training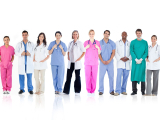 Registration Unavailable
Academy of Medical Professions
Price not
available
with Academy of Medical Professions
Please note: For more information about courses, including start date, payment plans, or to register, contact Academy of Medical Professions 866-516-8274 or www.academyofmedicalprofessions.com.
Courses include:
Pharmacy Technician, Phlebotomy Technician, Dental Assistant, Medical Transcriptionist, Medical Office Specialist with Billing Certification, Clinical Medical Assistant (CMA), Medical Coding with CPC Certification, and Certified Group Exercise &/OR Personal Trainer.
Registration Unavailable
Tech Hire Maine
IT Career Opportunity – At NO cost to you! Are you looking for a career in Information Technology? TechHire is a program designed to recruit, assess, train and place young adults into Maine's IT industry in positions like computer support specialist, software, and health informatics. Completed training will result in credentials recognized by the IT industry. This grant funded program provides a host of services to train young adults (between the ages of 17 and 29) as well as career changers who are looking for transition into IT roles. Get on board this $4,000,000 project that is fully funded by the U.S. Department of Labor Employment and Training Administration program by calling Winthrop Adult Education today 207-377-2265 or for more information on this program go to www.projectlogin.com/techhire-maine.