Filter by Subcategory
Personal Enrichment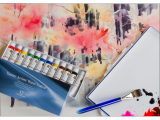 Watercolor Fun with Doris Anne Holman
with Doris Anne Holman

May 1, 2018 at 5:30 pm

, runs for 4 weeks
You will paint a new subject each night such as birch trees, flowers, fog, as well as practice washes, quick sketches and learn composition. From beginner to experienced, this class is for you! Bring watercolor pad, watercolor paints, pencils, small crayons, water container, sponges and paper towels.
Doris Anne Holman has been teaching watercolor for years, mostly running workshops around Maine.She previously ran workshops in Bermuda and Santa Fe. She was a former Art teacher at Monmouth Middle School as well as a Reading Specialist. When she is teaching watercolor she uses some experimental techniques to add texture and interest to her paintings. She has written, illustrated, and printed eleven children's books and one How to watercolor book. She enjoys teaching adult ed and looks forward to the Spring season.
Yoga for Abundant Bodies and Beginner Yogis Session III
with Carol Branning, RYT-200

Apr 24, 2018 at 6 pm

, runs for 6 weeks
Inclusive yoga – yoga for EVERY body. This class will introduce students to all aspects of yoga, providing information beyond the poses. The goal of this class is to provide an achievable, safe vinyasa flow for students with larger bodies to promote strength, flexibility and balance both physically and mentally. Self-acceptance is promotes. Wear comfortable, stretchy clothing.
Zumba Fitness Party Session I
with Lisa Doyon

Jan 22, 2018 at 5:45 pm

, runs for 6 weeks
Are you ready to party yourself into shape? Zumba combines Latin and International music with a fun and effective workout system. Since its beginning in 2001, the Zumba program has grown to become the world's largest – and most successful – dance-fitness program with more than 12 million people of all shapes, sizes and ages taking Zumba classes!